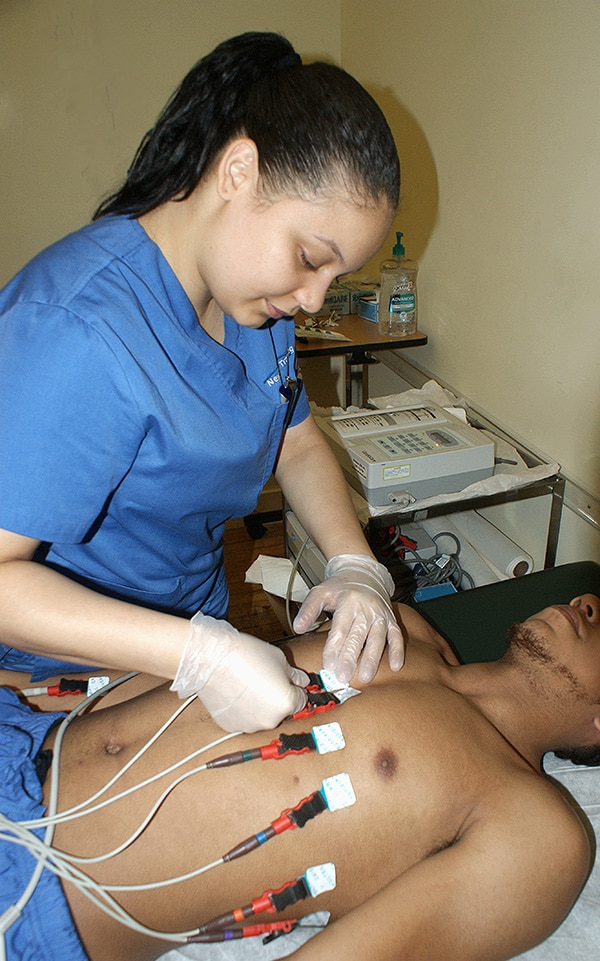 Medical assistant (MA) students train to work in a variety of health care settings including  clinics, hospitals and physician practices. Medical assistant training programs are available at New Age Training.  Our program provides students with the knowledge they need to develop the skills necessary to work successfully as a medical assistant. They include courses pertaining to patient care, medications, and office administration. Toward the end of their programs, New Age Training requires students to participate in a medical assistant externship and this externship is scheduled for all students in hospitals and medical offices.
How can externship help me?
An externship, also known as job shadowing, provides students with opportunity to work closely with an experienced person working in their chosen field. A MA externship allows medical assisting students the chance to work with medical assistants already established in the field. It provides them with the chance to work directly with patients, doctors and other health care providers. MA externships are typically set up through the school and can last up to an entire semester. Some programs set up the externships with a variety of health care establishments. This gives students the chance to gain experience in multiple health care settings, including physician practices, clinics and hospitals. It also allows students to see the different specialties in which a MA can choose. Medical assistants have the chance to specialize in areas such as optometry, obstetrics, pediatrics and podiatry
What would I do during the externship?
A medical assistant externship is an important part of the training students go through in order to work as a successful medical assistant. A MA externship allows students to practice and develop the skills necessary to work in the medical assisting industry. They apply the knowledge they learn when assessing patients. They get the chance to explain about medications or treatments that the patient is to perform at home. They have the ability to practice demonstrating equipment the patient needs to care for them at home.
The MA externship allows students to gain the clinical experience of caring for patients and running the office. They get to greet patients and collect patient information including demographics and insurance provider information. MA students are shown during their externship how to coordinate a patient's care with other health care provider. This occurs when the patient needs an appointment with a specialist, therapy sessions and diagnostic testing. All of the experience gained during a medical assistant externship is helpful when applying and interviewing for jobs because the time spent during an internship counts toward your total time as a MA.
You get to work with an experienced medical assistant:
Medical assistant externships act as a transitional time, allowing individuals to go from students to practicing MA. They learn how to apply what they were taught and practiced during school. The experienced MA a student is assigned to shadow will spend a few days orienting the student to the office. They will explain how the office is run and provide systematic instructions how to perform the duties required of them at that facility. After the student becomes more comfortable in the health care setting, the experienced MA will begin having the student perform the tasks and duties in which they are responsible.
The experienced MA will observe the student while performing the duties and provide constructive criticism and tips for performing certain tasks. Students have the chance to ask questions and focus more on their weaknesses during this time. The transition from students to actual medical assistants allows them to enter the workforce competently because they have the skills, knowledge and confidence needed to work as a MA in the field. An externship provides the opportunity to gain experience actually working as a medical assistant. The MA externship allows students to perfect their techniques for performing assessments, treatments and administering medications.
Call us at 212-947-7940 to schedule an appointment to visit our school and discuss our Medical Assistant program and how we can help you to become certified medical assistant.
To read more about our Medical Assistant program please click here
To Register on-line, please click here