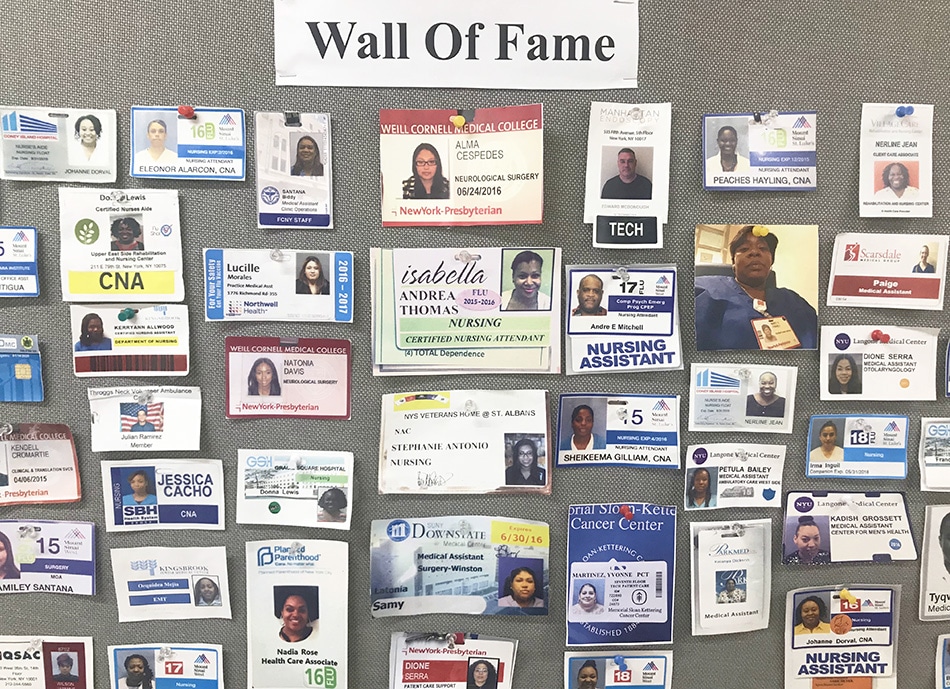 At New Age Training, all of our students are special to us!  Although everyone is special, being an honoree of our Wall of Fame signifies that you have successfully completed your academic training and development, passed your certification examinations and secured employment, which will lead to your new career in healthcare.
Our Wall of Fame was started about 4 years ago by our Sr. Career Services Advisor, Mr. Andre Jackson, with a much smaller board over his desk in Career Services. It contained snippets of emails from recently employed graduates expressing their gratitude. Soon after the board was overflowing with notes, emails and thank you cards and all our Career Service Advisors started adding to the Wall of Fame more and more successful stories about our graduates.
Since then, it has evolved into a much larger bulletin board populated with color-copied work IDs of the proud employees of Hospitals and Clinics across New York such as NYU, Mt. Sinai, Memorial Sloan Kettering, NY Presbyterian, Northwell and SUNY Downstate. Our Career Services team is well-connected with many hospitals and agencies in NYS and they all work together to place our graduates subsequently adding more IDs to our wall.
Today, the conversations with many students who walk by usually start with, "How do I get up there?" and "You'll see! My picture will be on the NAT Wall of Fame too."
Our graduates are proud to share their stories with us. We have heard of their challenges from the first day of class and it is rewarding to learn how they overcame adversity and obstacles due to the guidance and advice from the NAT team. We are excited about further developing our Wall of Fame with success stories and IDs.
We will continue to promote this board and showcase all of our gainfully employed graduates, so if you are a New Age Training graduate reading this post, we'll see you on the Wall!
For more information on how you can choose New Age Training and begin a new career, visit our website  https://newagetraining.com