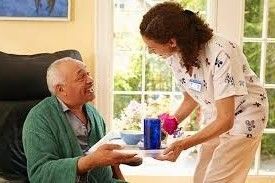 The Home Health Aide program will provide the education and hands-on training for graduates to qualify for Home Health Aide Certificates from New Age Training and to work as Certified Home Health Aides within a home care setting.
HHA's provide routine individualized healthcare such as changing bandages and dressing wounds, and applying topical medications to the elderly, convalescents, or persons with disabilities at the patient's home or in a care facility. They also monitor or report changes in a client's health status. HHA's may also provide personal care such as bathing, dressing and grooming of a patient.
The course curriculum is approved by the New York State Education Department and by the New York State Department of Health.
This course is designed for those (men and women) looking for employment as a home health aide (HHA).
Introduction to Home Care
Working with the Elderly
Working with Children
Working w/People who are Mentally Ill
Working with People w/Develop. Disability
Working w/ People w/ Physical Disability
Food, Nutrition & Meal Preparation
Family Spending & Budgeting
Care of the Home & Personal Belongings
Safety & Injury Prevention
Personal Care Skills
Orientation to Health Related Tasks
Performing Simple Measurements & Tests
Assisting with Prescribed Exercise Program
Assisting with use of Prescribed Medical Equipment, Supplies & Devices
Assisting with Special Skin Care
Assisting with a Dressing Change
Working Effectively w/ Homecare Clients
Internship in a Hospital or Home Care Agency (8 hours)
The Bureau of Labor Statistics reports that home health aides will have a projected employment growth of 38% between the years of 2014 and 2024. This rate is above average when compared to other occupations. There are several reasons for the rapid increase in the number of jobs. There are a large number of the population who are aging, and they will need more assistance in living. Those individuals will seek all types of medical services and assistance and this will create a demand for more home health aides.
Below are statistical data reported by the Bureau of Labor Statistics about home health aides:
Median pay (annual): $
21,920

Projected 10-year growth:
38% (2014 – 2024)
ALL STUDY MATERIALS
UNIFORM, SUPPLIES
JOB PLACEMENT ASSISTANCE
Visit
Make an appointment or just walk in any day Monday through Friday
Price
Tuition – $640, Book and Uniform – $46, Registration Fee – $25